Singapore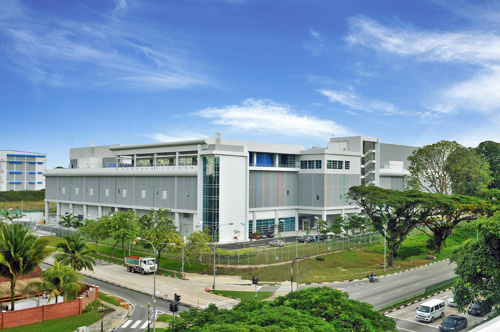 Our first data center in Southeast Asia
Singapore's small size inspired us to try something a little different. Instead of spreading the data center out, we built it up, creating our first urban, multi-story data center. Our neighbors include a local primary school and several HDB's.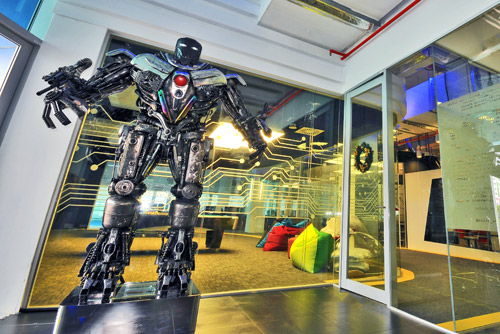 Robot-themed offices
Our robot-themed data centre office features a 400kg statue made from scrap metal and meeting rooms inspired by Robocop and Transformers.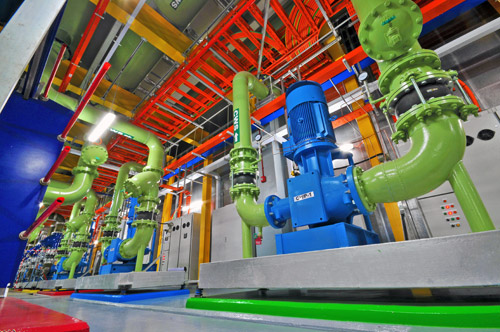 Googley cooling tubes
To conserve water in Singapore, we'll be employing a reuse water system that will pump recycled water through these colorful tubes to cool our servers off from Singapore's year-round heat.
Google is proud to call Singapore home to one of our data centers.
In September 2011, we announced that we had acquired 2.45 hectares of land in Jurong West, with plans to build a data center. The facility, which came online in December 2013, is our first data center in Southeast Asia and serves users across the region.
More new Internet users are coming online every day here in Asia than anywhere else in the world. This data center allows us to make sure that our users here have the fastest and most reliable access possible to all of Google's services, so they can do just that. This facility is also one of the most efficient and environmentally friendly in Asia - its cooling system will rely on recycled water, and it was built to the same high standard we use around the world, with each element custom designed to operate at optimal efficiency.
Who do I contact for more information?
For community-related questions, please email us to get in touch. If you are a member of the media, please contact press@google.com.
For more answers to our most frequently asked questions, visit our FAQ section.
Why did Google choose Singapore?
Singapore offers an ideal combination of reliable infrastructure, a skilled workforce and a commitment to transparent and business friendly regulations. Singapore also has a vibrant Internet economy and is located in the center of one of the fastest growing Internet markets in the world, Southeast Asia, where millions of users are coming online every day for information and entertainment, new business opportunities and better ways to connect with friends and family, near and far.